OEM and Custom Products
• A customer-driven supplier of OEM sensors
Since long more than a decade LaserPoint has been supplier of OEM power & energy sensors to some of the world's leading laser manufacturers. Our presence in the OEM market, several patents and the participation to a number of European Projects on laser monitoring are the best cards LaserPoint can give his customers, either in supplying standard products or in providing technical support in the discussion for new applications or the design of new detectors.
The following table shows the basic characteristics of LaserPoint most popular sensors. Around those sensors complete heads are designed and supplied with housings, cooling systems and amplifying electronics based on Customer's requirements and specifications.
• Advantages of LaserPoint OEM Laser Measurement Products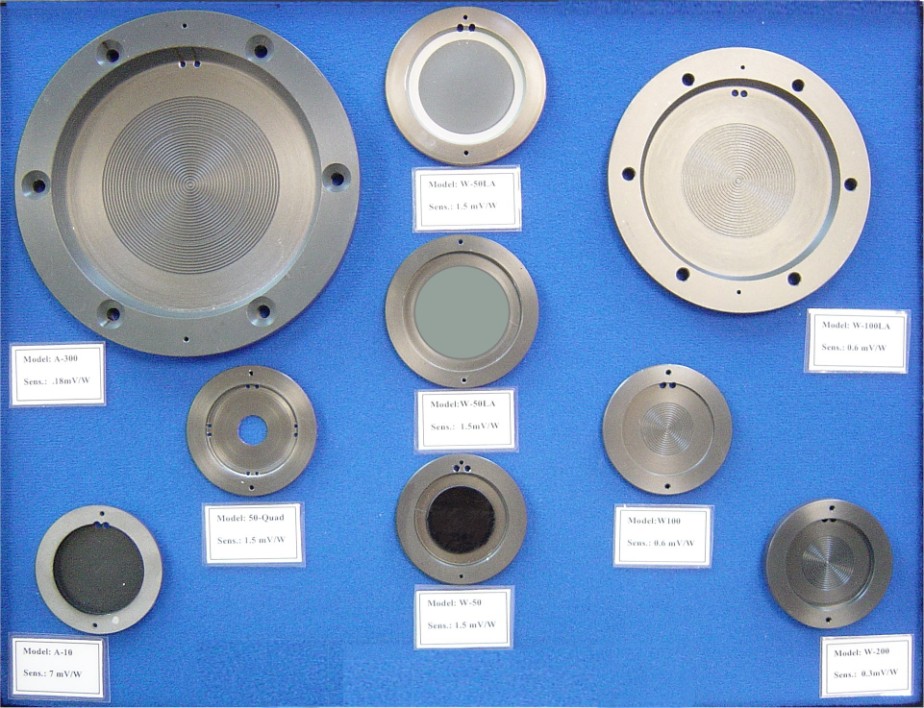 Reliable and Versatile Measurements Tools
OEM sensors discs manufactured by LaserPoint are high sensitivity, low impedance thermopiles. High sensitivity is important to maximize the signal-to-noise ratio when working at low powers.
Compared to other types of sensors which might be used in equivalent applications, thermopile detectors can be applied directly onto the beam, even at high powers.
LaserPoint sensors are made with resistant materials and coatings that extend their applicability from UV to Far Infrared and to concentrated beams, without damaging even at extreme power densities.
LaserPoint provides thermopiles which exhibit a high degree of linearity over their entire working range and have large areas that sample the whole laser beam.
Thermopile sensors are almost insensitive to the position and the size of beam when it strikes on their active areas. Alignment is never critical and installation time in OEM applications is fast.
Everything has been designed to provide accurate and reliable measure-ments of lasers like CO2, Excimers, Laser Diodes, Nd-Yag from 3W to 200W at competitive pricing .
Compact Design
Off-the-shelf sizes of sensor discs range from 15x15x3mm to Dia 90x6mm, with active areas up to 40mm.
Calibration
All OEM sensors undergo to a series in house inspections and controls, which include individual tests of sensitivity and impedance. A full calibration, with NIST or PTB traceability, is available on request.

Technical Support
If you do not find what you need today we can design custom sensors, housings and electronics that fit your requirements. Ask our Application Engineers for technical support: we have a full knowledge of optics, lasers, thermal behaviors, materials to cover your requests. A commitment to servicing with quality products, prompt deliveries and after sales assistance is another support provided by LaserPoint on which customers can rely on.
• Building-up a Laser Measurement System
• Standard configurations of OEM solutions
• Meterless OEM USB / RS232 Sensors
This series of sensors has been specifically developed for all those applications that do not require a display but where readings can be analysed and displayed on a computer.
With simple plug and play functionality, no additional meter and at a lower cost, the new PC Plugs-USB/RS 232 sensors have all the power and sophistication of signal processing and software of a traditional power meter.
The RS-232 version is the most convenient platform to have power measurement integrated inside laser processing systems.

• Who will need the PC-Plugs?
The PC-Plug sensors have been primarily developed for applications that need a power measurement station on board of ma-chines; these instruments are also the perfect monitoring tool for other industrial applications such as laser burn-in or long-term reliability testing.
Laser Point has several years of experience in providing sensors and heads to OEM customers. Many of these users prefer to solve their laser measurement problem by purchasing the bare sensor and design a specific electronics for signal processing. This is obviously a method but it has some limitations: for example the user must have both the tools and the know-how of add-ing accurate calibrations, the capacity of designing very low noise amplification and accurate A/D conversion which will drive to good stability and low noise measurements.
PC-Plugs sensors connect directly to a PC and now offer to system integrators or machine builders the possibility to save pre-cious resources to develop their own electronics and software. The PC-Plugs then simplify the work of OEMs who no longer need to take a thermopile sensor head and produce a calibrated power measurement instrument.
The PC-Plug approach provides the system designer the possibility of an immediate integration of a power meter with other de-vices of his system.